Reactions from artists and concert goers to their Heartland Connections experience.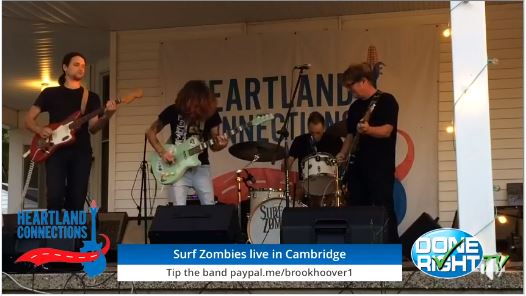 "I can't even begin to explain this network of volunteers and listeners near Bishop Hill, Illinois, but it's nothing short of amazing to us. They host many concerts and events. A beautiful part of the state with beautiful people who simply love music. Check them out. They know how to put on a safe, fun event in these crazy times. Thank you for having Surf Zombies!"
-Brook Hoover of the Surf Zombies
"If you want to know what's going on around the heartland like this page, it's an excellent way to stay connected." – Steve M.

"Perfect melting pot for music." -Alan S.

"Excellent resource to keep up with whats going down in west central Illinois!" -Melanie B.

"Great platform for helping speed the joy of music!" -Douglas C.

"I am absolutely amazed and grateful for the music, arts and events in this area. Sincere thanks to all who make it possible!" -Robert L.

"Great place to keep up on wonderful live music in the area." -Patti C.

"Great way to find out who is playing and to share the experiences! What a great service!"
-Megan S.

Regarding the live Streams of our concerts: "Great job on the live stream work. plugged in my headphones, sounded great. I know that's not easy, it's under appreciated work. Great job!" -Joe R.